Several countries see reduction in births 9 months after COVID injections
Are COVID shots' effect on fertility indicated by declining birth rates?
Posted by
David Heller
David Heller
Senior Researcher
David analyzes the conventional view and delivers clear fact-based articles
With last week's publication of a study showing a reduction in male sperm concentration among the vaccinated, the issue of COVID shots and reproduction has returned to the forefront. 
Last week's study published in Andrology showed that men who received a COVID shot had a 15% reduction in sperm concentration compared to their own sperm concentration before the shot.
Participants gave sperm samples before vaccination, then, between 15-45 days (T1), 75-150 days (T2), and over 150 days (T3) after getting vaccinated. At T2 their sperm concentration was reduced by about 15% compared to their pre-COVID shot level of concentration. 
For a full report on the study and related male fertility, studies see America's Frontline News article.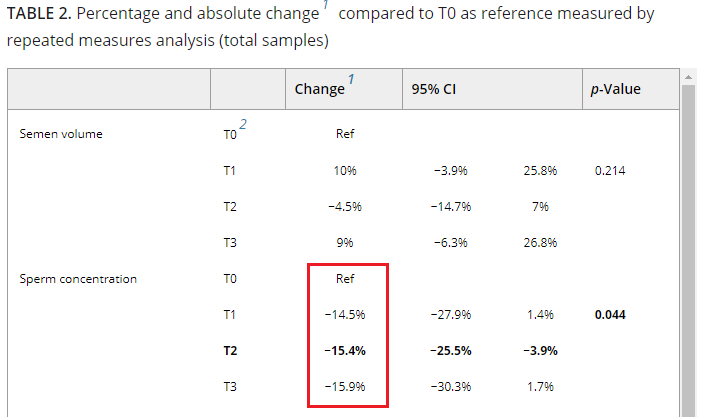 Source: https://onlinelibrary.wiley.com/doi/10.1111/andr.13209 
This study provides an important piece of evidence showing the COVID vaccine's impact on fertility and has renewed interest in the whole issue surrounding reproduction and the COVID shots.
Indicators from the early stages of the vaccine approval
As part of the FOI request for Pfizer's documentation, it was revealed that back in November 2020 research on animals found that lipid nanoparticle mRNA concentrations from the injections were discovered outside the injection sites.  This has been previously denied by the scientific establishment.
The research discovered that the adrenal glands, liver, and ovaries all had significantly high lipid levels even 48 hours after the injections. Unfortunately, as with many other safety studies, they did not continue their observations long enough to see if the lipids would return to their normal levels.  This revelation has given rise to concerns that the vaccines negatively affect other organs in particular the ovaries.     
Initially, Pfizer acknowledged the lack of testing on the vaccine's effects on pregnant women and fetuses. In a January 2021 report, Pfizer stated that "Administration of COMIRNATY in pregnancy should only be considered when the potential benefits outweigh any potential risks for the mother and fetus." After more research, Pfizer's product was approved for pregnant women as well, but the issues surrounding the effects on fertility and reproduction remained.
Menstrual Abnormalities 
After the start of the vaccination drive, in early 2021, a study investigated the prevalence of menstrual abnormalities after the COVID-19 vaccine. The study looked at females residing in the Middle East and North Africa and found that "overall, 66.3% of women experienced menstrual abnormalities after vaccination.", nearly double the number of unvaccinated women who experienced menstrual abnormalities. 
Miscarriages 
Data from one of Israel's largest hospitals (the only one to provide such data) showed that the stillbirths, miscarriages and abortions (SBMA) rate among vaccinated women was nearly 34% higher than the rate among unvaccinated women.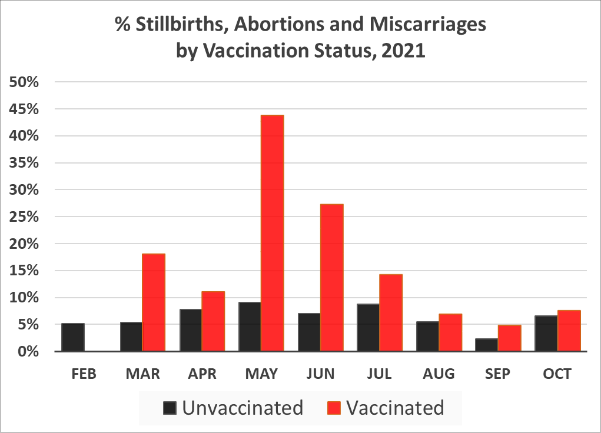 Source: https://jackanapes.substack.com/p/still-births-miscarriages-and-abortions 
Reports to the Vaccine Adverse Event Reporting System (VARES) for miscarriages have increased significantly. As of June 2022, there have been 4,751 reports of miscarriages in connection to COVID vaccinations alone. 

Source: https://openvaers.com/covid-data/reproductive-health
Compared to the flu shot
Adverse event reporting is difficult to make sense of without context. How do the COVID shots compare to other vaccinations?  
To get a clearer impression of the significance of the number of reports for miscarriages associated with the COVID shots, we can compare them with reports associated with the flu shots which are also taken by adults of childbearing age.  
The results are startling. 
COVID vaccines generate 16 times more reports of miscarriage compared to the flu vaccine. The following chart shows reports of miscarriages per million doses.  With the yellow bar for flu shots, and the red bar for COVID shots.
This means the COVID injections are 1,517% more likely to cause the recipient to report a miscarriage than the flu vaccines.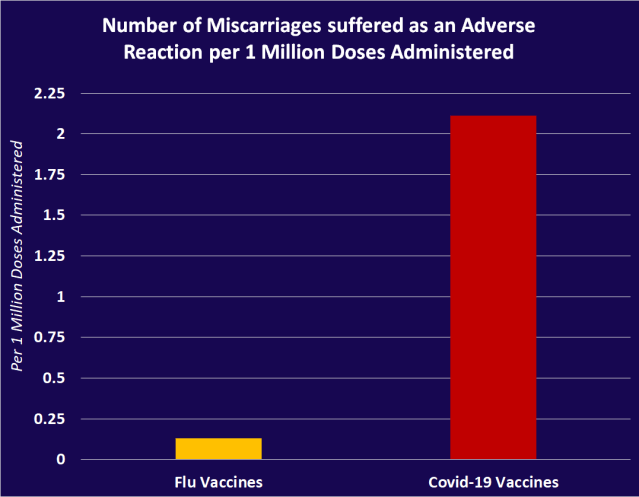 Source: Based on VAERS data as of April 2022. Graph and calculations from https://expose-news.com/2022/04/30/study-covid-vaccines-increase-risk-miscarriage-1517percent/  
Birth rates after the vaccination campaign - Real world data
With all the indications of fertility issues just mentioned, there is another heap of studies and data sets that show the COVID vaccines do not negatively affect reproduction. 
Now that at least nine months have passed since many young adults have been injected, what is the preliminary real-world data showing?  
Most jurisdictions don't make their birth statistics immediately available, but some do, and many show a significant decline in births for the first few months of 2022.
United Kingdom:
Births in January & February are down approximately 7% for the same period in 2021.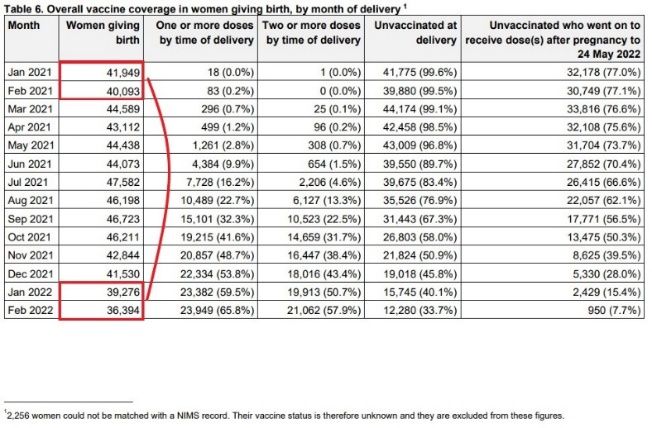 Source: https://assets.publishing.service.gov.uk/government/uploads/system/uploads/attachment_data/file/1083443/Vaccine-surveillance-report-week-24.pdf page 21
Germany:
January – March 2022 had a 13% decline compared to the same period in 2021, and the lower than the previous 5 years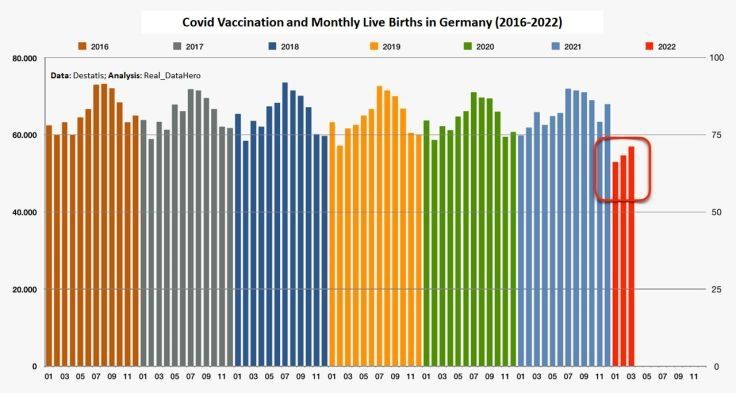 Source: https://swprs.org/wp-content/uploads/2022/06/Geburtenruckgang-CH-DE.pdf Page 11
Switzerland:
January – April experienced a 12% decline compared to the same period in 2021, and below anytime in the previous 5 years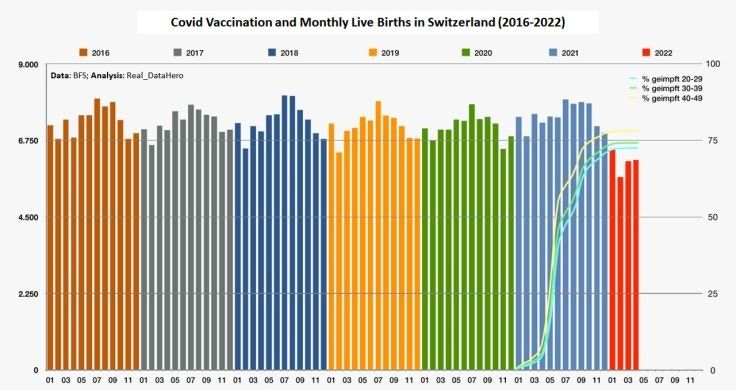 Source: https://swprs.org/wp-content/uploads/2022/06/Geburtenruckgang-CH-DE.pdf Page 2
Taiwan: 
The Department of Household Registration, reported in a release, "there were 9,442 babies born in May 2022 which decreased 23.24% compared with the same month last year."
Hong Kong:
February – April saw a 48% decline compared to the same period last year however there were no data for January 2021, while January 2022 had a substantial number of births.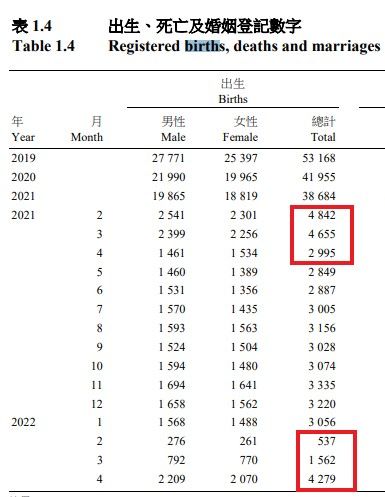 Source: https://www.censtatd.gov.hk/en/data/stat_report/product/B1010002/att/B10100022022MM06B0100.pdf  
Sweden:
January – April of 2022 saw a 6.6% decline compared to the same period in 2021, and about 6.9% decline over the previous three-year average 
Source: https://scb.se/en/finding-statistics/statistics-by-subject-area/population/population-composition/population-statistics/pong/tables-and-graphs/monthly-statistics--the-whole-country/population-statistics-2019-2022-month-and-1998-2021-year/#Fotnoter
Netherlands: 
January – April of 2022 saw a 6.7% decline compared to the same period in 2021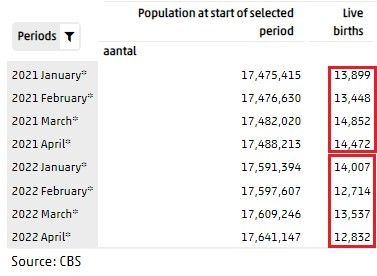 Source: https://opendata.cbs.nl/statline/#/CBS/en/dataset/83474ENG/table?ts=1656509275300  
Slovenia: 
January – February of 2022 saw a 6.7% decline compared to the same period in 2021 and about an 8.4% decline over the previous three-year average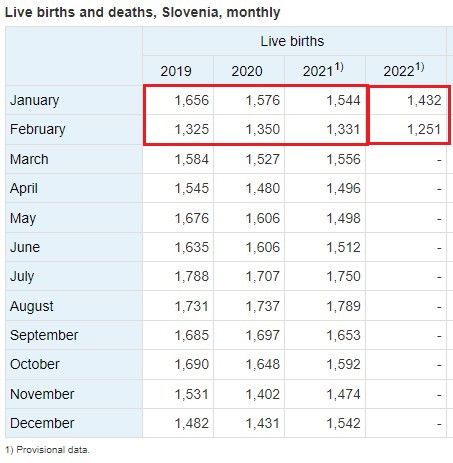 Source: https://www.stat.si/StatWeb/en/News/Index/10253
Scotland: 
January – Feb of 2022 saw an 8% decline compared to the same period in 2021 and about 11% decline over the previous three-year average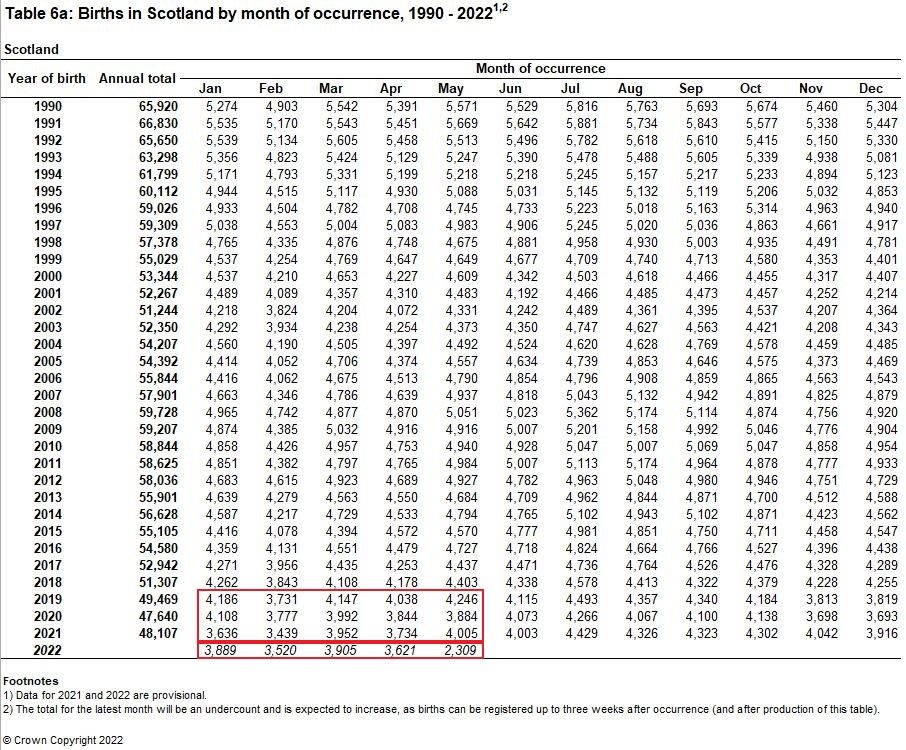 Source: https://www.nrscotland.gov.uk/files//statistics/weekly-monthly-births-deaths-data/2022/may/monthly-may-22-tab-6.xlsx
Of the other countries that we found monthly birth data for 2022, only New Zealand showed an increase over previous years. 
The countries that did have data, present a fairly consistent picture of declining births at about -8% over the previous year, also concerning is that most show the monthly births declining as the year goes on.   
This situation will continue to be monitored by America's Frontline News.
The decline in new births could be for other reasons. A recent article published in the NEJM suggested that climate change could play a role. Maybe parents think they just have enough children, so they stopped having more.
Still others suggest that what we are seeing is part of a desire to reduce the global population and save us from overpopulation.
So is it the COVID vaccine, are parents just taking a break, or is this part of something bigger? We don't know, but one thing is clear there is a definite decline in births so far in 2022.