Advice column premier: Back to Center
Perspectives for personal realignment and empowered living in the COVID era
America's Frontline Doctors (AFLDS) presents Back to Center: Perspectives for Personal Realignment and Empowered Living in the COVID Era, by Certified Transformational Life Coach Sarah Perron.
How do I get my spouse to understand that I don't want my children to take the shot? 
Being on a different page from your spouse about an important decision can be tough, especially when it involves your children (not to mention the high voltage topic of the COVID shot).
This calls for some quality conversation. Sit down together with your spouse at a quiet time when you can both focus and be present. Make space for each of you to express your side of the issue. 
When it's your turn to talk, don't reach first for the facts, figures, or research you've done about the shot. Instead, take a deep breath, go to your heart, and access some vulnerability (it may get a bit uncomfortable, but hang in there). Tell your spouse how the idea of giving the shot to your children makes you feel – whether it be scared, angry, confused, or something else. Be open and honest about your feelings. Let the tone be loving and concerned. When you approach this conversation with "This is how this idea makes me feel" instead of "Here are all the reasons why the shot is a bad idea," your spouse will be much more likely to hear you out, and much less likely to feel defensive.
Once you've expressed your personal feelings, then you can move into the "and here's why." This would be a good time to bring up some of the research you've done or experiences you've had that back up your opinion.
When it's your spouse's turn to speak, make sure to offer the same deep listening and respect that you want from him or her, no matter what comes up.
Whatever the conversation holds, do your best to create an atmosphere of partnership and collaboration. Consider using statements like "I know how much we both love the kids, and that we just want to keep our family safe and healthy. How can we work together to make the best decision here?" Remember, the two of you are on the same team!
If working it out together isn't working, consider bringing in an objective third person who can help mediate the discussion. Don't give up – if you really feel the shot is wrong for your children, stand your ground. Hopefully your strong conviction will help your spouse understand your perspective. To your family's health and well-being!
Both sides, pro/against the vaccine have doctors. How can I, without any knowledge in medicine, know who is saying the truth? 
I hear you! These are confusing, complex times. The truth isn't so easy to see these days, and knowing who to believe…well, it can all seem as clear as mud. 
But the truth is always there; sometimes it's just a matter of uncovering it. If you're willing to roll up your sleeves, do the work to find it, and be willing to accept what you find, you'll get there. Ready? 
Try to make a personal connection with a few different medical professionals from each side of the issue, whether from your own contacts or through friends and acquaintances. Ask to meet with them or speak with them on the phone. And then, ASK QUESTIONS. Any and all questions you have. Fire away. Don't hold anything back. You deserve the truth, remember?
Take in the responses you receive and put them alongside any other information you've gathered from other sources. Take some quiet time to consider and listen in to what's going on underneath all of this information. Can you detect any underlying agendas of control, manipulation, or intimidation in either side's story? Politics, power, money…Anything deeper going on here below the surface? Which side seems to have people's best interests at heart? 
Be sure to listen in to yourself as well. What is your own inner voice saying about all this? What do you see around you in the world with your own eyes about what's going on? What do you feel at your core about this? Never underestimate the power of your own intuition. 
As you learn and consider, please keep this in mind: If either side is telling you that you have to choose their way or your personal rights and freedoms will be at risk, something is WRONG. As with all medical decisions, everyone should be able to choose what they feel is right for themselves and their families. Any hint of coercion or pressure is a red flag to look more closely at what's really going on.
All the best to you in your search for the truth!
I miss gathering with my family and friends, I feel cut off from society (movies, restaurants, etc.) What should I do? 
My friend, you are not alone in this struggle. The social, psychological, emotional toll that the COVID era has taken on us is huge. While nothing can truly replace the kind of face-to-face, in-person interactions that were normal before, there are things you can do to help fill the gap. 
First, be proactive in reaching out to family and friends in any way you can. Pick up the phone. Hop on a video call together. Organize Zoom family reunions. Be intentional about connecting with people daily. Tell those you are close to how you're feeling; share your struggles with loneliness and isolation. Chances are, you'll find that someone else you know is feeling the same way, and then you can support each other. 
Get creative! Consider joining an interactive online group activity, like a class that includes discussion and participation. Start a virtual book or movie club with friends and meet regularly on a video call to discuss your readings and viewings. Create your own "restaurant" experience by eating together with friends or family over Zoom (you can even trade recipes!).
As I said, none of these ideas take the place of in-person connections and experiences. But the point is that we have to do our best with what is right now. If we get stuck on the fact that everything is different and refuse to adapt, we're going down fast. Like any other challenge in life, this COVID era will be what we make of it. Choose to be active in creating ways to stay connected with people and find fulfilling experiences despite the circumstances. 
Choose to live right now and make the very most of it!
If we are in a pandemic, why are we not seeing bodies piled up in the streets? 
Good for you for asking the question! So many people these days are just blindly going along with what their leaders and the media are telling them about the world situation. 
The unfortunate answer is that we are being lied to. There are people in power who are intentionally creating a specific narrative about COVID to achieve their own ends – money, control, and probably more – at the expense of the public's well-being. They want you to think that COVID is a raging pandemic, and that we are all in danger of dropping dead from it at any moment. That keeps you afraid and willing to go along with whatever plan they might concoct to "save" us all, be it masks, lockdowns, vaccines, and who knows what else.
It can be really hard to accept that there are people willing to and capable of cooking up such a malicious, world-wide scheme…but it's happening. The main thing is to do what you are already doing: Use your eyes. Use your brain. Observe the situation and find the things that don't add up. Ask questions and encourage others to do the same. Refuse to be controlled and manipulated. Make your own decisions about what you will and will not do. 
Never give up your right to think for yourself.
Mask-wearing is anathema to me, but when I go to the store, people look at me like I'm a murderer. I know they are wrong, but it still bothers me a lot! What can I do? 
First off, I want to tell you that you are doing something incredibly brave. It can be very hard to make a choice that causes you to stand out as the different one, especially in such an emotionally charged realm as COVID and mask-wearing. You are making a stand for what you believe, even though it is uncomfortable. Well done.
Second…it's okay that you are bothered by others' reactions to your mask-less shopping. You're normal - we all want to feel accepted. Even though you know the people with the hostile glances are wrong, it still stings. It's alright to feel the feelings that come along with this tough situation.
So, what can you do? Well, when it comes to other people and their reactions to you…not a single thing. We have zero control over other people and the way they choose to live and act. You have no say in what your fellow shoppers think of you because that's their decision.
What you can always control is yourself. Your thoughts and actions. Your decisions. Your perspectives. What you add to the world.
So, what will you add to the world when someone glares at you in the supermarket? Will you choose to glare back, or smile brightly at them? Will you avoid eye contact, or say a cheerful "Good morning"? Will you let the way they're looking at you affect the way you look at yourself, or will you stand firm in living your own beliefs and say, "It's their problem, not mine"?
It's all a matter of what kind of energy you want to put out into the world. Choose well and stay strong!
Questions may be submitted to Sarah Perron at advice@aflds.org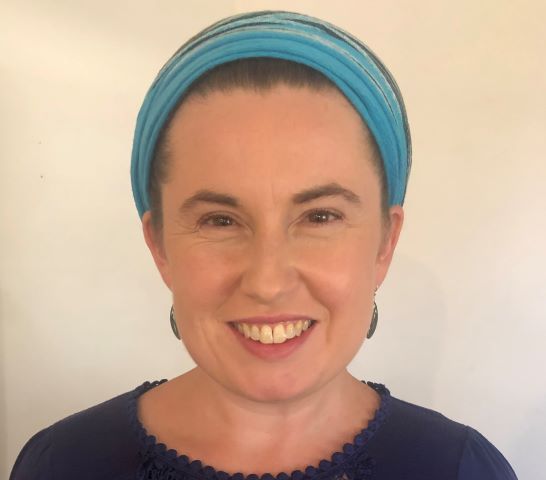 Sarah Perron is a Certified Transformational Life Coach. Her passion is to help people create a powerful vision for their lives, identify and eliminate anything that holds them back, and step into their own unique greatness and mission in the world. She believes deeply in the power of coaching to bring fresh perspectives, ideas, and motivation to anyone who wants to thrive in life. Sarah works with clients one-on-one and in group coaching programs and presents exciting workshops on self-development topics. You can follow her on her YouTube channel Find Your Fire.